Eden Girls' School celebrates first GCSE results
The first cohort of pupils at Eden Girls' School, Waltham Forest have opened their GCSE results – and are celebrating achieving some top results.
88% of pupils achieved GCSE passes in English and Maths at grades 9 to 4, while 76% achieved grades 9 to 5 in these key subjects.
42% of the Eden Girls' School Year 11 cohort achieved the English Baccalaureate, which is awarded to pupils who achieve grades 9-5 in English and Maths, two Sciences, a modern foreign language plus either History or Geography. Nationally, around a tenth of pupils achieve the EBacc.
These outstanding results are expected to place Eden Girls' School, Waltham Forest among the top 1% in the country for progress, and the top 5% for attainment.
Shahina Ahmad, Principal of Eden Girls' School, said:
"This set of results is testament to the hard work, commitment, dedication and sacrifice made by teachers, students and parents. I would like to thank the teachers and students for believing great things can happen when we work together."
Pupil Yasmine El-Hamri achieved the top grade of 9 in Maths, Biology, Chemistry, Physics, History and Art. She also achieved A* grades in ICT, RE and Arabic.
"I want to thank all my teachers for the support they provided me during my years at Eden. I will really miss you all."
Yasmine will go on study Maths, Biology, Chemistry and Fine Art at the London Academy of Excellence in Tottenham.
Pupils Suraiya Husain and Halimah Choudhry also achieved brilliant sets of results. They both achieved grade 9s in Maths, Biology, Chemistry, Physics and Humanities. They both achieved A* in RE and ICT.
Eden Girls' School, Waltham Forest opened in September 2014 with pupils in Years 7 and 8. The school was judged 'outstanding' by Ofsted at its first inspection in June 2017.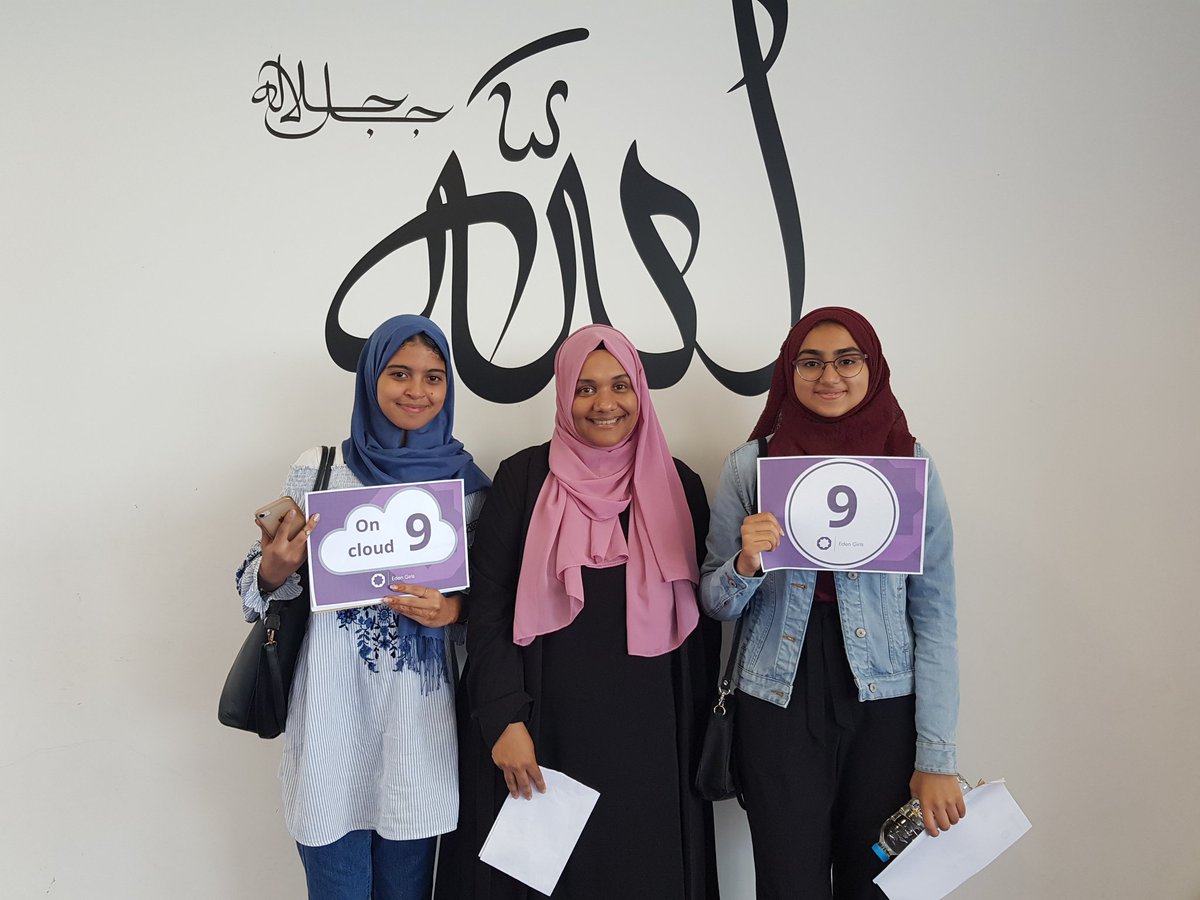 Eden Girls' School pupils celebrate their outstanding GCSE results – left to right are Yasmine El-Hamri, Ms Dauhoo and Marwah Arshad.
Notes to editors
Eden Girls' School, Waltham Forest is run by Star Academies, a not-for-profit multi-academy trust. One of the UK's leading multi-academy trusts, Star runs a diverse network of primary and secondary schools across the UK. Star is a values-based organisation that works to improve the life chances of young people in areas of social and economic deprivation to help them succeed at the highest levels of education, employment and the professions. For more information about Star, visit www.staracademies.org.
Added By: Aisha Ayub | Date Added: 23rd Aug 2018 | Posted In: Latest News